Silent Came the Monster:
A Novel of the 1916 Jersey Shore Shark Attacks
 
 
Published May 16, 2023 by Blackstone Publishing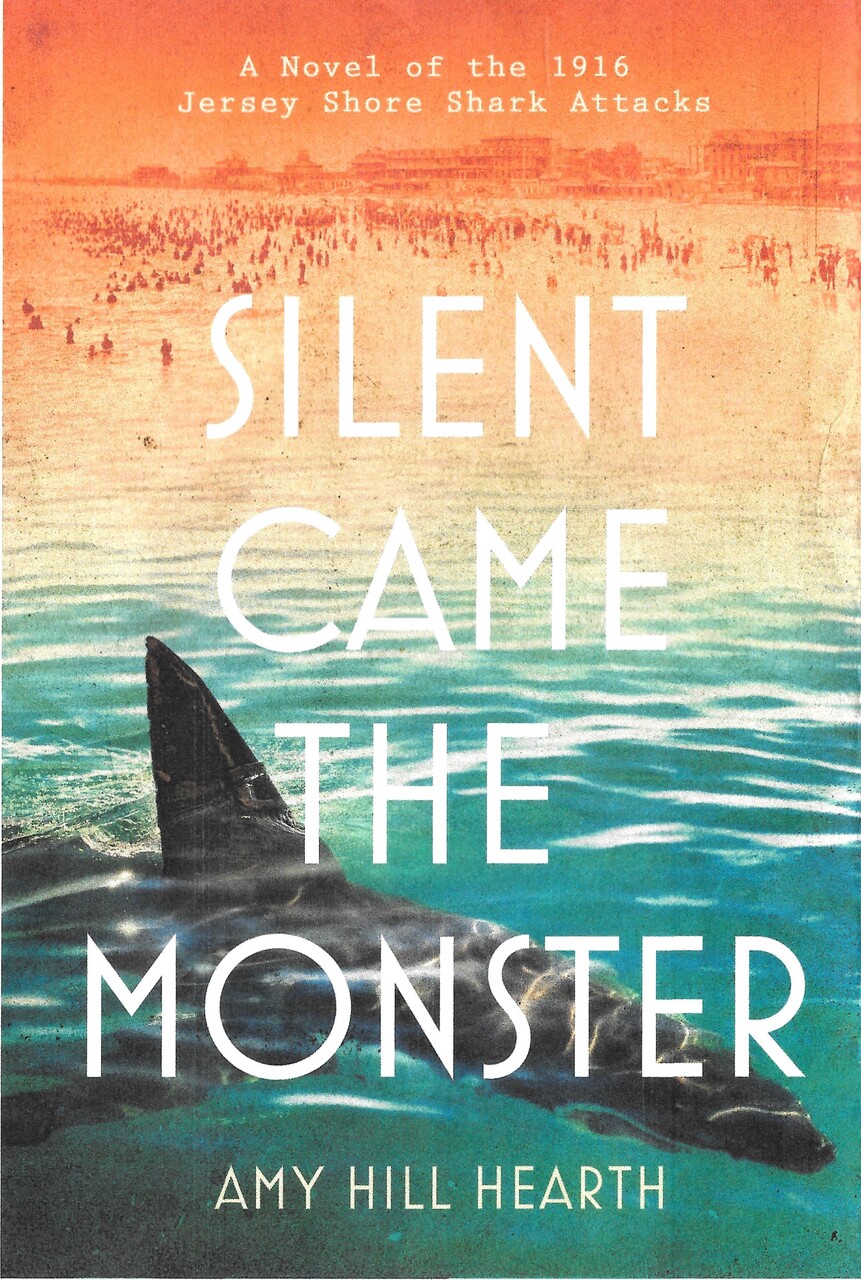 During the summer of 1916, a surgeon at the Jersey Shore fights denial, conspiracy theories, defiance, and confusion in a desperate attempt to convince a skeptical public that the culprit behind a series of fatal attacks is a shark, not a huge sea turtle or German U-boat, and that it will strike again. Inspired by a series of true events.
One sentence summaries:
A rogue shark upends the Jersey Shore, paradise for the wealthy and genteel, during the summer of 1916.
A high society historical novel merged with a pulse-pounding thriller of a larger-than-life threat.
Full Synopsis:
"Sharks are as timid as rabbits."
So says a superintendent of the Coast Guard, dismissing the possibility that a shark could be the culprit in an unprecedented fatal attack on a swimmer at the Jersey Shore.
It's July 1916, a time when little is known about ocean creatures, and swimming in the sea is a relatively new pastime. Americans up and down the East Coast are shocked and mystified by the swimmer's death. Little do they know that this is only the beginning.
A prominent surgeon at the shore, Dr. Halsey, after examining the wounds of the first victim, is the only person who believes that the creature is a shark and that it will strike again. But the public as well as the authorities—and even those who witnessed the attacks—don't believe him. Dr. Halsey finds himself fighting widespread confusion, conspiracy theories, defiance, and outright denial of the shark.
Seeking the input of commercial fishermen, Dr. Halsey learns that they have long been concerned about a creature they call the beast. The local Native Americans, the Lenape, have their own beliefs as well.
The shark attacks occur in an already fraught time. A brutal war rages in Europe, and Americans are divided about becoming involved. Meanwhile, an unprecedented outbreak of "infantile paralysis" (polio) creates widespread panic. Into this scenario, the sea monster arrives. But what is it? Theories range from a huge mackerel to a giant sea turtle, or even a German submarine.
The story of the 1916 Jersey Shore shark, believed to be a great white, changed the way Americans think of the seashore, reminding us once again that nature plays by its own rules.
Copyright Amy Hill Hearth
Praise for Silent Came the Monster:
Winner, Audiofile Earphones Award
Audiofile Magazine:
"This audiobook demonstrates that a shark attack can be as scary on audio as it is on the big screen. With narrator David Marantz at the mic, this fictionalization of a series of shark attacks off the New Jersey shore in 1916 is frightening and entertaining. Marantz's performance is ideal. He employs a low-key delivery that complements author Amy Hill Hearth's superb dialogue and highlights the fears and ignorance of the local townsfolk. Marantz is most memorable in his depiction of surgeon Edwin Halsey, who examines one victim and believes he was killed by a shark that will attack again while others cavalierly dismiss his warnings. By the book's conclusion, listeners may be tempted to avoid swimming in the ocean this summer. - D.J.S. Winner of Audiofile Earphones Award."
Audible and Goodreads Summer 2023 pick.
Audio.com and Crimereads fan favorite.
Michael I. Shoop, Historical Novels Review:
"Hearth's fictional treatment of an actual series of brutal shark attacks that terrified people along the popular beaches of New Jersey's coast in 1916 draws on a variety of sources to give the reader the real story of what happened that hot July, events that eventually sent shock waves throughout the country. Capturing the reader's attention from the very first page, the fact-based story is related mainly by the fictional Dr. Edwin Halsey, a prominent small-town physician who harbors a harrowing secret concerning his own past that connects him to the current attacks.
From the very first incident, Halsey suspects that a shark is responsible, but is unable to convince anyone else of his concerns. He becomes a single-minded investigator, examining victims' bodies and the sites of the monster's attacks, phoning newspapers, sounding the alarm. However, with an outbreak of polio and the possibility of closing the New Jersey borders for the season, and rumors of a huge German submarine patrolling the coast adding to the confusion and fear, Halsey is up against conspiracy theories and disbelief and denials and panic.
Hearth creates a good balance of suspense, urgency, and real terror, her use of historical events and people—even Woodrow Wilson has a cameo―are appropriate and add to the authenticity of the era. Hearth's characters, including Halsey; the tragic schoolteacher Margaret Atkins; Halsey's strong-willed daughter, Julia; and the real-life eccentric Brooklyn taxidermist/animal trainer Michael Schliesser—who plays a vital role in determining and explaining the horrifying events of that summer—are well drawn and believable. This combination of historical events and thrilling suspense makes for a taut, compelling read. A list of resources is included."
Marshall Karp, #1 New York Times bestselling author:
"A mere five words into this gripping story I could hear the thrum of the Jaws music inside my head. Based on real-life events, Amy Hill Hearth captures two weeks of terror in an age of innocence. A riveting tale. Be bold — make it your beach read."
Judy Christie, Book Columnist, The Shreveport Times:
"Book lovers are often beachgoers, so for summertime I recommend a new historic thriller: "Silent Came the Monster: A Novel of the 1916 Jersey Shore Shark Attacks" by Amy Hill Hearth. The book has released just in time to make you afraid to get into the water—and is inspired by true shark attacks that killed four people and wounded another in a real-life event that will make you happy that "Jaws" isn't true.
About the story and its author
Hearth has lived on the Jersey Shore for nearly three decades and tells this well-researched fictionalized story with the engaging details of an insider. She is a bestselling author of fiction and nonfiction for adults and young readers and wrote one of my favorite books (later a movie), "Having Our Say: The Delany Sisters' First 100 Years," the true story of the lives of two devoted sisters through the decades.
The tale she spins in "Silent Came the Monster" is chilling and entertaining. At first the idea of a fatal shark attack in 1916 was dismissed. "Sharks are as timid as rabbits," said a superintendent of the Coast Guard. But a prominent surgeon at the shore examines the victim and is the only one who believes the perpetrator was a shark—and that it will strike again. Can he convince the rest of the world before it's too late?"
Ruth Bass, Sunday Columnist: The Berkshire Eagle:
"Terrifying, delightful, thoughtful and gripping."
Hester Young, author of The Gates of Evangeline and The Burning Island:
"A deeply compelling novel rich with historical detail and surprising parallels to our modern world."
Lynn Hightower, international bestselling author:
"Silent Came the Monster is chilling, thrilling and fun. A great white shark with a taste for hunting humans in this turn of the century setting makes for a fabulous read."
Peter Golden, author of Nothing Is Forgotten:
"Wherever Amy Hill Hearth turns her attention, history comes alive. In this novel, we discover the sun-splashed beauty of the Jersey Shore in the summer of 1916, when the threat of war, a polio epidemic, and a dangerous great white shark threaten the residents and tourists, and the fear of these threats hang above the ocean like storm clouds. Silent Came the Monster is a thrilling, unforgettable journey into the past."
Litchfield Books, Pawley's Island, SC:
"A new store favorite...A great read, full of insight and great characters! Smartly written, an inside look at life on the gilded age beaches of the Jersey Shore."
Cindy Burnett, Thoughts From a Page Podcast:
Chosen for Summer Reading Guide
"This book chronicles the real-life shark attacks that inspired the movie Jaws. Set against the backdrop of World War 1 and a polio epidemic, people are not inclined to believe that a shark could kill anyone. With the knowledge we have today, I found it so intriguing to see how little people knew about sharks in the early part of the 20th-century and how humans' responses to things unknown/unseen then were eerily similar to how people still respond today."
Skylark Bookstore, Columbia, Missouri:
"Awesome"..."does not disappoint."
Becca Bradley, The British Bookworm, Dorset UK:
Rating: FIVE STARS
"Just when you thought it was safe to go back in the water…
'Sharks are as timid as rabbits.' So says a superintendent of the Coast Guard, dismissing the possibility that a shark could be the culprit in an unprecedented fatal attack on a swimmer at the Jersey Shore.
It's July 1916, a time when little is known about ocean creatures, and swimming in the sea is a relatively new pastime. Americans up and down the East Coast are shocked and mystified by the swimmer's death. Little do they know that this is only the beginning.
Having been born by the sea and spending my first thirty years living by it, I have always been fascinated by what lies beneath that often glassy surface. Add to that watching the eponymous film Jaws at a very young age, and you can imagine, my eyes lit up when I saw that there was a possibility of reading an ARC of Amy Hill Hearth's first-ever historical thriller, Silent Came the Monster, on NetGalley. After submitting my request, I checked my emails constantly in the hope I would be selected, and then the confirmation came through, and my life was made!
I flew through this book at a rate of knots as I could not put it down. In the opening chapter, it's 1880, and the captain of a 19ft catboat (named so by fishermen having to shoo cats from the boat that were after the dead fish) and his greenhorn deckhand are being stalked by something in the water…
'The deckhand saw it first. Sweet Jesus, what is that? he asked himself. Before he could get a good look, the creature dove beneath the surface.'
From this opening chapter, the story jumps forward to the first of July 1916 and the start of Independence Day celebrations, which means only one thing for the small beachside community of Beach Haven…tourists. And for the shark…potential luncheon. It is at this early point in the story we meet the main protagonist Dr. Edwin Halsey, a surgeon called out on an emergency visit to the Engleside Hotel in Beach Haven. His patient? The victim of what appears to be a shark attack.
With the war ongoing in Europe, an outbreak of Polio, and more victims of this mysterious monster piling up, Dr. Halsey must fight to convince the locals that this is not a monster, a German submarine, or "The Beast" that the local fisherman have come to call it, but a living and very real thing. A thing that has the power to remind them all that no matter how in control they think they are, nature inevitably plays by its own rules…
This is not just a story about the horrific attacks that took the lives of four people in the twelve days that the shark roamed the shores; it is a story of courage, hope, grief, and resilience in the face of adversity. The characters are all beautifully written and have a tremendous depth that adds so much emotion to the story. And also, this book is peppered with beautiful snippets of local history, which, for any history buff, makes this book all the more difficult to put down! Reading this book has opened my eyes to so much more than just the shark attacks of 1916; I will also be looking to learn more about the Lenape people who inhabited that area for thousands of years before the colonists arrived as well as other facts that arose.
A huge thank you to Amy for putting your heart and soul into this book. Your knowledge of history shines through your writing, and it was a privilege to get to read it. And to NetGalley and Blackstone Publishing for sending me an ARC and making this bookworm's life. Thank you.
And if you want to know how it all ends then click on the links below to pre-order Silent Came the Monster which will be released in May 2023. I hope this book reels you in as it did me and that you add it to your spring TBR list!"
RedCarpetCrash:
"The year is 1916, and the Germans are at war, an epidemic (polio) is sweeping the country, and on the Jersey Shore, a shark has attacked, and killed a man. No one wants to believe it was a shark, except for Dr. Halsey, who is screaming loud that it will attack again. Everyone has a guess what it might be, but no one wants to believe it's a shark. Then it strikes again in different locations. The Doctor is determined to get people to listen to him, and then out at sea one day, the shark attacks, and it could be the end of his life. There are a number of side stories involving the locals, and those who are attacked by the shark, and how they must go on with their lives. This novel is based on the real life 1916 shark attacks, which I knew nothing about, and is a fascinating read. Author Hearth has really done her research, and is a good summer read, before you go into the water."
Thunder Road Books, Spring Lake, NJ:
"I loved this book!...The historical accuracy of this book, combined with the rich relationship building and rising tensions, kept me fully engaged the entire time. This is a great reminder that sometimes stepping out of our reading comfort zones can lead to surprising new favorites! Thank you to @blackstonepublishing for the ARC! You've got a hit on your hands."
The Cullman (Alabama) Times:
"Jaws before 'Jaws'...a well-told story."
Read All Things:
"Best New Book Releases of 2023."
Mostly Murder Book Club:
"This is a well crafted fictional telling of the Jersey Shore shark attacks of 1916. I was very impressed with all of the research and evidence based components in this retelling of the shark attacks that inspired Jaws."
This Bookish Life:
"I get really excited when I find out that a new book is being released by an author I enjoy. Imagine my great joy when I heard that Amy Hill Hearth had a historical fiction book coming out about the 1916 shark attacks that occurred at the Jersey shore...I devoured the book in two days. Yes, I said devoured- like a shark...I really enjoyed how the author highlighted the humanity of those involved as well as the heroism shown once the people accepted that there was a shark, or sharks, attacking.